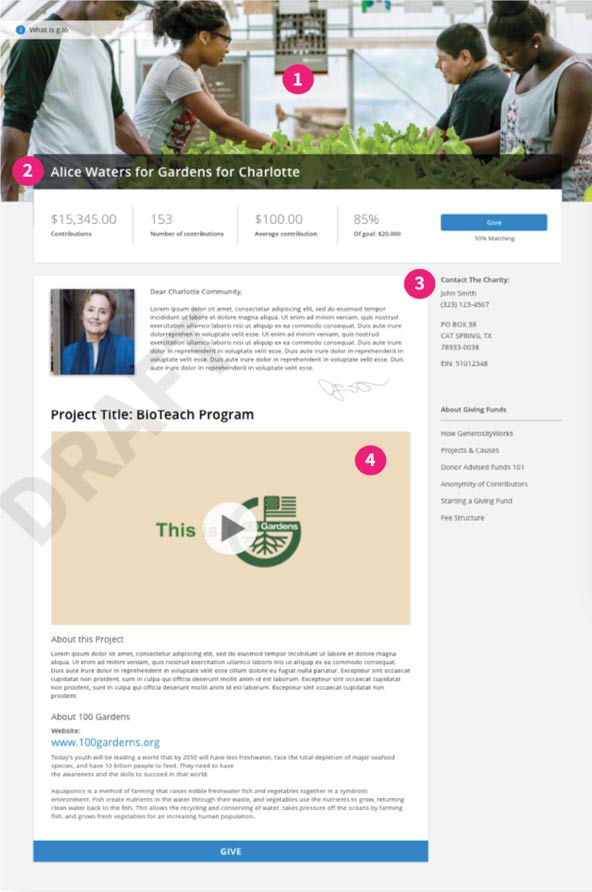 How to Participate:
Start by opening a Giving Fund with GiveClear. This is free, quick and easy. Sign up today!
Fill out our online form with the information for your page.
GiveClear will provide you with a link for your page when it is ready.
Share your project with your network. Use all social media networks to tell your story and share the link for the page.
What You'll Need:
The image is an example of a GenerosityWORKs page and the information you will want to have to fill out the form.
Banner image to catch the eye of your supporters
Title of your project
Description of your project
Supporting media. For example, short explanatory video, charity logos, photo slideshow
Project Promotion
With the unique URL, you can promote your project by sharing the link in emails, on your website and social media pages (ie. LinkedIn, Facebook, Instagram and more). Anyone who clicks on the link will be brought to the project page where they can learn about your cause and make a contribution.
*All contributors will receive a tax receipt for the full amount of their contribution.